The Power of Swing - Pop - Jazz
Komm und s(wing) mit. Einstieg jederzeit möglich
Wir bieten:
hochqualifizierte Chorleitung
fundierte Einstudierung mehrstimmiger Chorsätze
Stimmbildung, Bühnenerfahrung
Spass im Team
Kontakt:
Arthur Buck, Tel. 079 448 51 13, e-mail: abuck@abuck.ch
Regula Oliveira, Säge 155, 4467 Rothenfluh, e-mail: regula.oliveira@bluewin.ch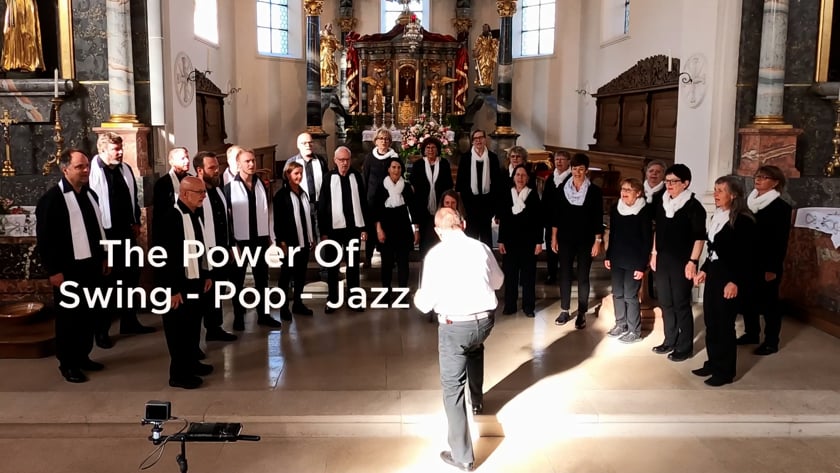 Samstag, 17. September 2022, 09.00 - 12.00 Uhr
Einsingen
Groove up mit Swing, Rock und Gospel
Gospels: Nobody knows the trouble I've seen und Joshua fit the battle of Jerico
Themenblock I
Auswendig lernen und Rhythmus üben
Themenblock II  
Melodie lernen und üben
Themenblock III  
Chorproben und Gesangsübungen zuhause
Unterstützung durch Einzel- bzw. Kleingruppenunterricht
Individuelle Gespräche des Dirigenten mit den einzelnen Registern
Swing: Doo Dub Dah
Abschluss 
Singen aller Lieder dieses Workshops und Überprüfen der Ziele
Ziele
- Freude erleben am gemeinsamen Singen, an unseren Rhythmen und jazzigen Melodien
- Klarheit über die gestellten Anforderungen an die Freaktal Singers betreffend Training zuhause und in der Chorprobe, welche Lieder und wie einzustudieren sind durch den einzelnen Freaktal Singer, sowie über die angebotene Unterstützung durch den musikalischen Leiter und das Kernteam.
Ort
Aula Schulhaus Ebnet Frick
Anmeldung
Arthur Buck, Tel. 079 448 51 13, e-mail: abuck@abuck.ch

Proben
Die Proben finden im Herbst/Winter 2022 von 19.30 - 22.00 Uhr in der Kapelle Oberhof statt:
18.10. / 25.10. / 1.11. / 8.11.
15.11. / 22.11. / 29.11. / 6.12.
Zur Vorbereitung der Proben stellen wir unseren Sängerinnen und Sängern  Noten und Hörbeispiele online zur Verfügung. Zur Unterstützung der individuellen Vorbereitung bieten wir zusätzlich individuellen Einzel- oder Kleingruppenunterricht bei unserem Dirigenten Arthur Buck an.

Konzerte
02.12.22   
Auftritt im Naturkundemuseum Bad Säckingen
11.12.22 und 18.12.22   
Adventskonzerte in den Kath. Kirchen Kaisten und Herznach
Abwechslungsweise wurde das Publikum in verschiedenen Blöcken durch die zwei Chöre überrascht. Die Jodellieder spannten einen weiten Bogen vom feierlichen «Glogge Jodel», zum fröhlichen «Seeländer-Jutz» und endeten mit dem heimatverbundenen «Euses Fricktal». Die glockenklaren Stimmen der Jodlerinnen und Jodler überzeugten nicht nur die Freunde des Jodelgesangs, sondern versetzten auch die anwesenden Liebhaber von Jazz und Swing in Erstaunen.
Mit einer Vielzahl von Liedern wie «We've got the Swing», dem herzbewegenden «Tears in Heaven» oder dem bekannten «Kum Ba Yah» zeigten die Freaktal Singers ihr breites Spektrum an unterschiedlichen Tonfarben.
Die Kleinformation der Freaktal Singers in der Kirche Oltigen
Die Freaktal Singers am Aargauer Chorfestival in Brugg